Below are QuantHub's recommendations for creating a position.
General
Assessment Workflow will determine if your position includes a test, challenge, or both. We recommend creating separate positions for tests and challenges due to test length and reporting.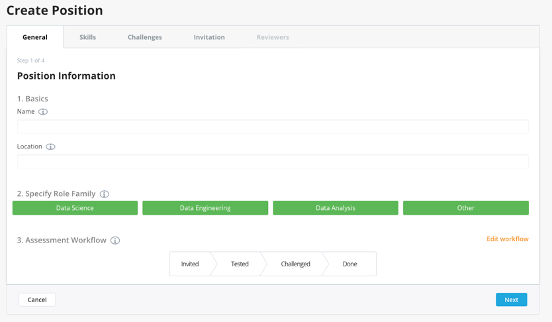 Skills
We recommend no more than 3 skills in a single test due to test length.
The slider bars on the right will determine the weight of that skill calculated in the qScore. If they should be weighted evenly, you can leave these on "1."
You will see the total number of questions and length of the test once you select the skills.

Invitation
Email addresses are tied to invitations. An invitation cannot be redeemed by a user that is not tied to an assessment.
Create a new invitation only when new deadlines are needed. You can add additional users to existing invitations.
You can view the list of users tied to an invitation by clicking on the candidate's icon

Email verses Invite Code Invitation Types

Reviewers
Reviewers are able to see assessment results only.
Reviewers have to be added to your team for them to appear in the dropdown list.