Assessment reports can be accessed on the individual level from the purple clipboard on your admin dashboard.
To access the assessment report, click on the report icon on your dashboard.

Candidate Details
At the top of the report, you will see the test taker's name, email, and the name of the assessment.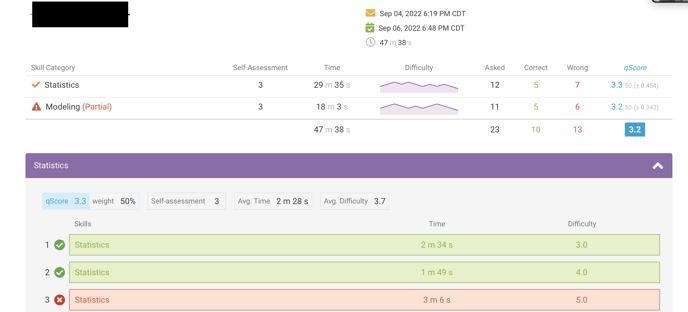 Assessment Status

Each report will include an invitation date/time, a complete/incomplete date/time, and a total assessment time.

Results and Scores
Each skill is displayed with the candidate's responses and the qScore for that skill competency.
Skill: The skill assessment selected
Self-Assessment: Ability level chosen by the test taker (0-5 scale)
Time: How much time the test taker spent on each category
Difficulty: A line graph showing the varying range of question difficulties
qScore: Score for each skill category. The qScore highlighted in blue is the average of the skill categories. This is the qScore that displays on the main dashboard.
Specific Skills Assessed
Expand the skill graph to see the details for each skill tested. The questions presented to the candidate are shown in order along with their response. For each question, you can see the specific lower-level skill from the skill graph that was tested.

qScore: Score for that skill category
Weight: Amount of calculation weight applied to the score
Self-Assessment: Ability chosen by the test taker (0-5 scale)
Avg Time: Average time spent on each question
Avg Difficulty: Average difficulty of each question
Skill: The specific lower-level skill for the question presented to the test taker